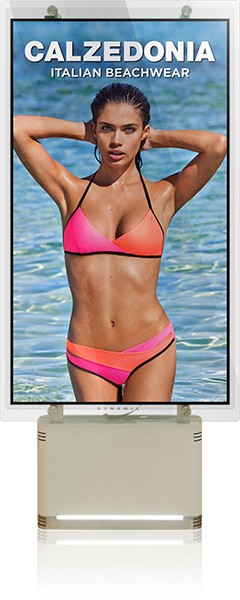 digiCLV
21st century's Citylight consisting of modern large-scale D-LED BLU screen with ultrathin frame of 75" i.e. 190 cm diagonal length and with FullHD 1980 x 1080 pixel resolution placed on an elegant stand. Attractive location in the most visited shopping centres of Prague, Brno and Ostrava. Offering the possibility of displaying static visuals as well as dynamic spots and on-line actualization. Exclusive medium in attractive locations with millions of monthly passers-by. The timeless design of the stand made out of stainless materials will accent the prestige of your campaigns.
Amount of displayed motives: 6 (5 commercial + 1 non-commercial)
Display position time: 6 seconds, i.e. 100 displays per 1 hour
Size of visible space is 165 cm x 93 cm, diagonal 190 cm.